Professional Development & Community Series' 2023-24
Every Thursday over lunch in the Tartan Room, Lowry Center, 11:45am-12:45pm (lunch tickets available starting at 11:30-11:45am; if you can't get there in time to pick one up before the event, you can get one afterwards for future use)
Open to all Interested Staff & Faculty
Resources for each event will be available in the Academic Professional Development (APD) Microsoft Team (Join with Code: 6w12db6). You can also use the APD Team Calendar to see future event topics and add individual events to your calendar (or the full series).
This Month: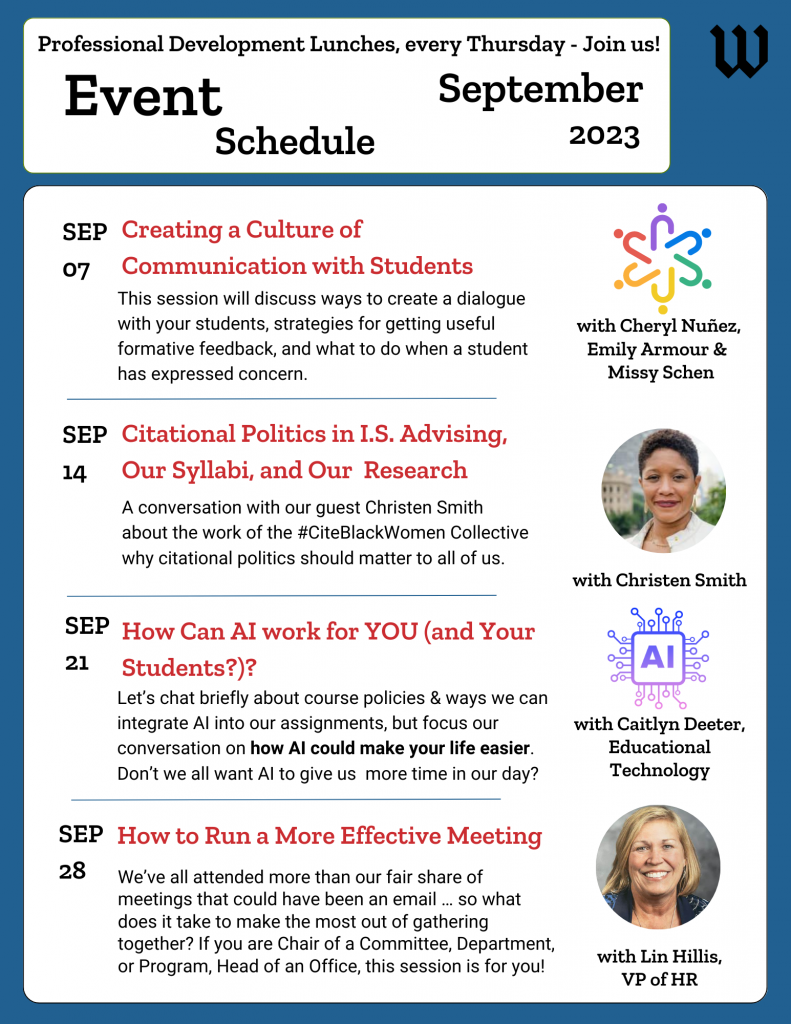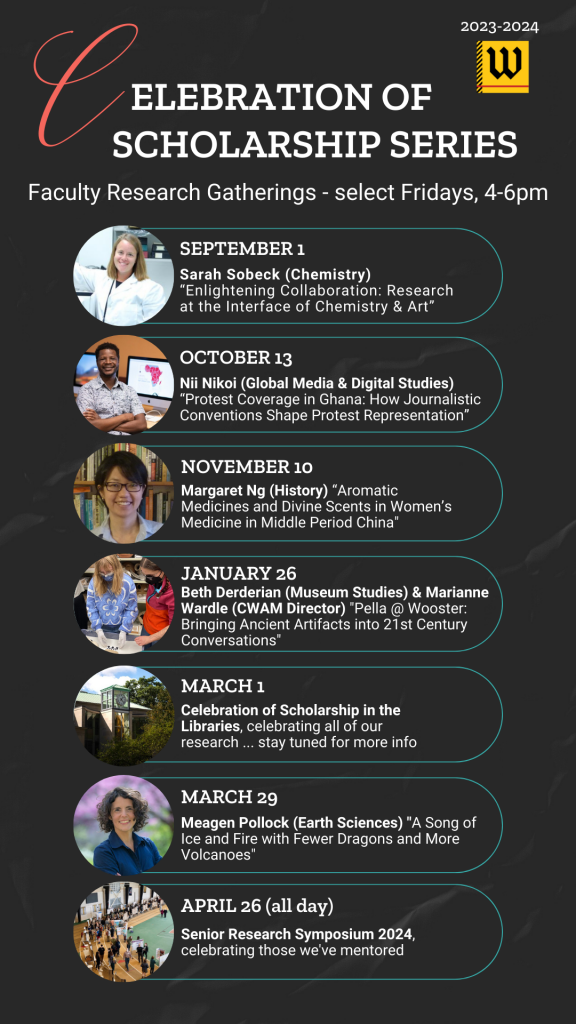 Select Fridays: Celebration of Scholarship series, Research Gatherings 4-6pm
Sept 1: Sarah Sobeck (Chemistry) "Enlightening Collaboration: Research at the Interface of Chemistry & Art"
Oct 13: Nii Nikoi (Global Media & Digital Studies) "Protest Coverage in Ghana: How Journalistic Conventions Shape Protest Representation"
Nov 10: Margaret Ng (History) "Aromatic Medicines and Divine Scents in Women's Medicine in Middle Period China"
January 26, 2024: Beth Derderian (Museum Studies) and Marianne Wardle (College of Wooster Art Museum Director) "Reflections on the Pella @ Wooster Project: Bringing Ancient Artifacts into 21st Century Conversations"
Mar 1: Celebration of Scholarship in the Libraries (celebrating all of our research … stay tuned for details)
March 29: Meagan Pollock (Earth Sciences) "A Song of Ice and Fire with Fewer Dragons and More Volcanoes"
April 26: Senior Research Symposium, celebrating those we've mentored
"Let's Talk" for Faculty & Staff (by appointment during the academic year)
Sign up for a free, confidential, 15-minute consult with Wellness Center counselors
* All faculty, and staff in APEX, CDI, Academic Affairs, Student Affairs, Educational Technology, and the Wellness Center receive announcements about professional development events in the DFD Digest newsletter. If you are a staff member outside of these offices & would like to receive more information, we're happy to add you! Please let DFD know and we'll add you to our Professional Development list.