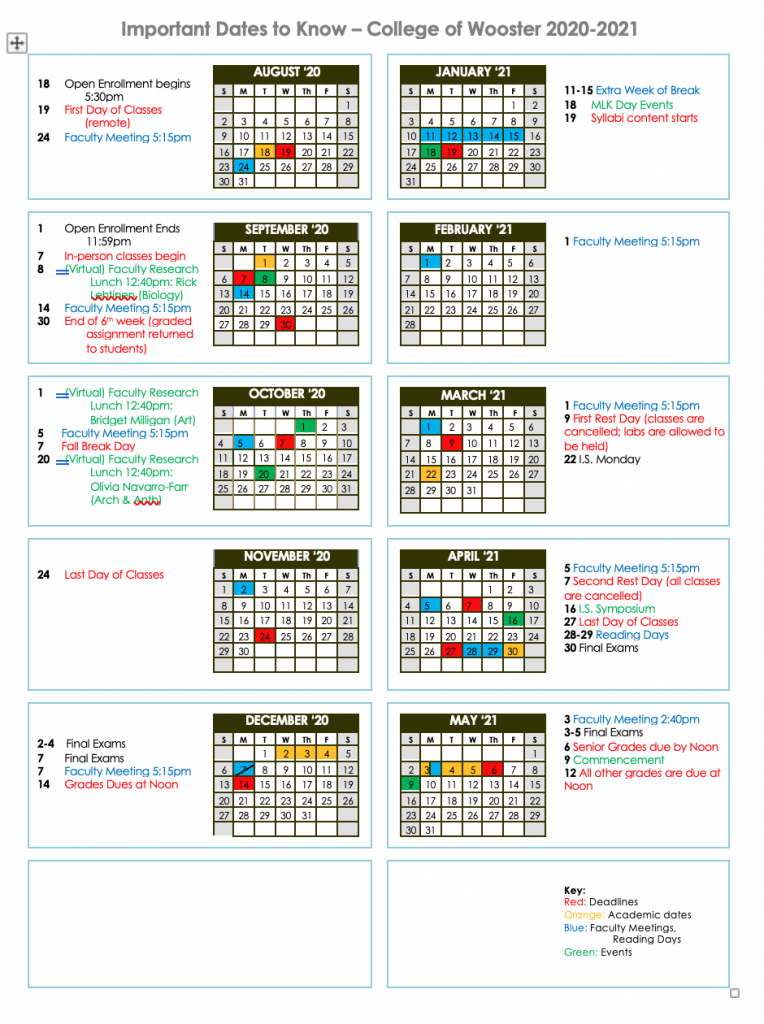 For your Office Hours: Avoid 5:15-7:00pm (which replaces the 4-6pm block reserved for extracurricular activities on our traditional schedule)
Faculty endorse (December 7, 2020 Faculty Meeting) that there be no deadlines for assignments or exams on Rest Days (March 9, 2021 and April 7, 2021).
Faculty endorse (December 7, 2020 Faculty Meeting) using Moodle as the Dashboard for every course, where course materials are organized and available for students to find in a single place (this should include the syllabus, information on office hours, and links to all major assignments and readings).
Graded assignment by the 6th week: By policy, all students should receive feedback on a significant, graded assignment within the first 6 weeks. This offers an opportunity to give timely feedback before the 6-week drop deadline. Note that because federal government guidelines define courses as 'attempted' after 6 weeks, if a student drops a course after 6 weeks, it will be noted as a 'W' on their transcript.
Pass/Fail & Drop Options for Students: For Spring 2021, students may drop a course until the last day of classes, Tuesday April 27th.  Students may drop one course, up to 1.25 credits, at any time through the last day of classes (Tuesday, April 27 by 4:00PM), as long as their total remaining credits are above 3.0. This may be done without documentation of extenuating circumstances. Students may also designate any course (also in major/minor) as pass-fail until one week after final grades are posted.
The College will offer a one-week grace period for the I.S. deadline. That is, students are encouraged to submit by Monday, March 22, 2021 by 5:00pm, but students now have through Monday, March 29, 2021 at 5:00pm to submit without a petition. Faculty are not expected to meet with their Senior I.S. students during this one-week grace period. All I.S. projects will be submitted electronically in Spring 2021. Students should email their I.S. to the Registrar's Office via registrar@wooster.edu, and copy their respective I.S. advisors, and upload to OpenWorks
See Calendar for updated Break, Reading, and Exam Schedules.

Reading Days for Spring are scheduled for Wednesday, April 28 and Thursday, April 29. Final Exams will be Friday, April 30 and Monday-Wednesday, May 3-5, 2021.

Seniors Grades are due by noon on Thursday, May 6, 2021. All other grades are due by noon on Wednesday, May 12, 2021.
Class of 2021 students can graduate with 31.0 courses (instead of 32.0). Students will still be expected to complete the College general education and major/minor requirements toward graduation. This policy will be in place for students who graduate in December 2020, May 2021, and August 2021.
Students may opt-in to take Senior Independent Study (452) pass-fail (S/NC). That is, any student who is taking 452 in the following terms: Fall 2020, Spring 2021, Summer 2021, and Fall 2021 can opt-in to take 452 as pass-fail (S/NC). Students will have until one week after the IS deadline to decide on this grading method. (Note: normally 452 is graded as Honors/Good/Satisfactory/No Credit, H/G/S/NC).
Conscientious Religious Observance Policy (approved by the faculty 2/1/2021)
The College of Wooster acknowledges that our community is one of many faiths with a diverse range of practices and observances important to each tradition. In order to fulfill the College's mission to educate a diverse population of students and our commitment to inclusion regardless of religious and spiritual tradition, we seek to practice an equitable and consistent approach in providing religious accommodations.

Students shall not suffer academic, athletic, or employment penalties because of the conscientious observance of any religious day or days. Penalties include reduction of grades, exclusion from class projects, reduction in number of other excused absences, bias in evaluation, suspension or termination from play or work, and other preventable negative consequences. Religious observances that may require accommodation include but are not limited to attendance at services, fasting, set prayer times, and other practices that would impede a student's normal participation in classes, labs, other course-related work, athletic participation, and student employment.

Accommodations may include excused absences, adjusted exam times, permission to eat during class time, changes to assignment due dates and project schedules, and other reasonable adjustments to course schedules and activities. Accommodations should not reduce the overall expectations of a course nor unduly burden the student requesting accommodation.
For questions about Academic Policy, contact Dean for Curriculum & Academic Engagement Jennifer Bowen, jbowen@wooster.edu.  
Contact Dean for Faculty Christa Craven, ccraven@wooster.edu and notify your Chair if:
You need to change the way your class is offered for more than two weeks (i.e., hybrid to remote).  We'll consult with Dean Bowen about the appropriate point to change the designation in Scotweb if it will be permanent.
If you are unable to teach for a period of time beyond a week (especially if you require assistance finding alternate arrangements)
Campus Communication: Laws & Community Practice:
As a non-profit, tax-exempt institution of higher education, federal law prohibits The College of Wooster from participating in any partisan political campaign on behalf of any candidate for public office. Staff and faculty are free to participate in the electoral process when they are not on campus and are clear that they are not speaking on behalf of the College. However, all employees are prohibited from using College facilities (including email) to support a political party, PAC, or candidate for public office, or for the purpose of political fundraising.
The zwdFaculty listserv goes to 200+ faculty, adjunct faculty, and administrators. Generally avoid sending mass emails unless they are applicable to the whole audience.
Avoid using student names in email subjects, especially if corresponding about a sensitive issue (in general, it's better to provide less detail & follow up with a phone call to maintain everyone's privacy)